Welcome
Welcome to the website of Gordon Wilson, one of Scotland's most exciting contemporary artists.

About The Artist
Gordon Wilson was born in 1968 and grew up in Glasgow, where he is now based with his wife and two children. He studied at The Glasgow School Of Art, and has worked in the art industry for many years as a designer, picture framer and artist. He now paints full time from his studio in Milngavie, Glasgow.
Gordon's subject matter ranges from quirky portraiture to emotive land and seascapes, and his deep love of the west coast of Scotland shines through in his evocative work. Gordon paints from the heart; his expressive oil paintings reflect the ever changing moods of both the countryside and the artist himself. His much loved paintings of old ladies (Biddies), Belted Galloway's and characterful Clyde 'puffers' allow him to create amusing narratives in his paintings.
Gordon has had sell out solo exhibitions and has participated in prestigious group exhibitions in leading art galleries throughout the UK, Ireland and the USA. Demand for Gordon's colourful artwork continues to grow and today his paintings can be found in both corporate and private collections all over the world.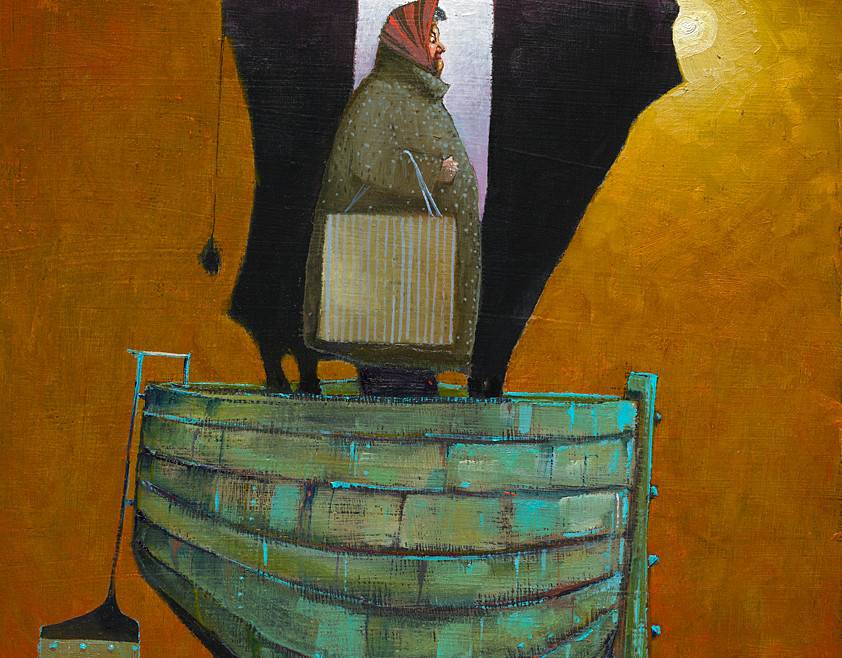 News
I am excited to announce I have released a selection of Limited Edition Giclee prints which can be viewed on the website. Please contact me if you are interested in purchasing any of the prints.
I've had a full and exciting start to 2018 with a successful and hugely enjoyable show at The Lemond Gallery, Bearsden. I am now working towards my solo show at The Annan Gallery, Woodlands, Glasgow. The preview is the 8th of September and I will be there on the day, so please come along.
I am also partaking in various group summer exhibitions, a list of these can be found on the exhibition page of the website.